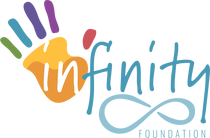 Infinity Foundation is a 501(c)3 Colorado nonprofit organization committed to creating endless opportunities for individuals with intellectual, developmental, and physical disabilities and their families. Infinity Foundation was established in 2015 to support our affiliate, GoldStar Learning Options (GLO). Our goal is to raise the financial resources necessary to sponsor and allow families to access specialized programs and equipment, ensure the continuation of services, obtain emergency funding, and receive other essential services which they would otherwise be unable to secure due to gaps in funding.
We recognize that each situation is unique and believe that every person should have access to the resources and supports specific to their needs. Whether experiencing an emergency, going through a transition, or just seeking answers, we are there to assist families and individuals in every aspect of life. We strive to bridge the gap in essential funding, services, and support when it is needed most.
In pursuit of our mission to improve the quality of life of those with disabilities and their families, we partner with state-approved agencies and other community resources able to provide quality, individualized services and programs. This includes eligibility determination, resource coordination, service and behavior plan development, transportation, residential services, and numerous other supports. These supports allow individuals to increase their independence in-home, at the workplace, in the community, and across all settings in their day-to-day lives. Infinity Foundation also places emphasis on raising awareness and educating others, so everyone feels welcome within their community.
Our goal is to provide individuals and families the necessary resources that will:
  Ensure continuation of therapeutic and supportive services

  Secure access to specialized programs not or partially covered by other sources

  Aid with emergency or crisis situations

  Furnish assistive technologies to improve quality of life

  Connect people with approved agencies to secure quality care
​Many families and individuals face difficult decisions on how to spend the state and federal funding they receive, often sacrificing quality for quantity. The demands of daily caregiving and planning also add complications such as emotional stress, unexpected medical bills, and even difficulty maintaining steady employment. Infinity Foundation wants to be a resource to circumvent some of those complications so that endless opportunities are within reach.
Fundraising is how we reach our goals and live out our mission. Individual contributions, recurring donations, fundraising events, online campaigns, cultivating relationships with our community, and securing grant funding are all avenues we utilize to provide life-changing financial support. Relying on our community to help those in need in turn promotes awareness and education about our mission and the people we serve.  
For more information visit: http://www.infinitycolorado.org/